"Billy has an excellent relationship with his pupils and the progress they make under him is outstanding."
Dan Eaton, Head Teacher, Leigh Primary School, Kent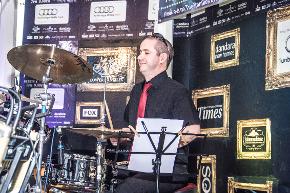 I'm Billy a professional drum teacher from Sevenoaks, Kent. I have been teaching drums since 2004 and have worked in schools throughout South East England.
I am currently teaching in schools around the Sevenoaks/Bromley/Dartford area as well as from a fully-equipped studio in Sevenoaks. I teach all levels and abilities, all styles, reading, playing with a click and the Rockschool Grades complete with a 100% pass rate.
I will take each student through the essentials of drumming at their own pace and make the lessons thoroughly enjoyable. I have taught students as young as 4 years old all the way through to adults. Teaching drumming is my passion and it is a pleasure to pass this on to my students.
As well as providing first-class drum tuition, I am also experienced in leading rhythm workshops and 'School of Rock' band sessions.
For further information on lessons or to make a booking contact me on the link below.
Billy has a clean up-to-date CRB certificate and Public Liability Insurance.
"Tom is really enjoying his lessons and played brilliantly at his school concert last week. You really are an inspirational teacher."
Natalie Oshea, Sevenoaks
Looking for an alternative Christmas gift to give to someone special?
Take this opportunity to buy a one-off drum lesson or a series of drum lessons to learn more about drumming, rhythm, expand your coordination and musical styles. I will supply a gift voucher headed with Billy Cunningham Drum Tuition. The perfect gift for a music enthusiast who always fancied trying out drumming or you think might enjoy a session on the drums! Email Billy for more information and details on prices.